I've been on a Warhammer 40k kick recently, despite all the new drama surrounding the hobby. Having a chance to read the Sabbat War anthology book had given me the inspiration and motivation to work on my Imperial Guard(Astra Militarum, to you new players) forces again, and to play some more rousing games of 9th Edition Crusade. A friend of mine suggested we take two Guard armies against one another, fluffing the 25 Power Level starting games as 'Military Exercises' and then opening it up to everyone else once we hit 50 Power Level. An intriguing idea, with one very important caveat; It had to be a custom or lesser known regiment, using the custom regiment rules.
But what regiment could I do? I have a significant amount of Cadian troops that could easily be a custom regiment, but that wouldn't be as exciting or new. All my other regiments are either big names or used to be, with loads of established lore. It had been many years since I had thought of doing something fresh. I had just sold some Airsoft equipment, and therefore had the funds to acquire something new. But what regiment?
The idea came, oddly enough, by listening to the song "And the Band Played Waltzing Matilda" one day. It wasn't a song I hadn't heard before, nor was it any special day for it. But my love of Australian and New Zealand military history made me think.
Dan Abnett's Gaunt's Ghosts series introduced a regiment, the Roane Deepers, that he went on to say on his blogs were inspired by Anzac troops of both the Great War and the Second World War. They are often thrown into meatgrinder campaigns, used as cannon fodder by uncaring Guard commanders, doing the thankless and inglorious work while other regiments get the credit.
This is often depicted by other hobbyists doing the regiment as Western Front style trench warfare, with the ubiquitous British Brodie helmet and trench coats. And there is certainly nothing wrong with that approach. But the 'thankless, inglorious work' reminded me of a different WW1 campaign.
The ill-fated and tragic Gallipoli landings.
There were three main inspirations for this army beyond the battle itself. Firstly, the beautiful and haunting soundtrack from Battlefield 1 for their Gallipoli missions. Secondly, many documentaries covering the campaign in detail. And thirdly, and most of all, the amazing Chunuk Bair diorama and artwork that Weta Workshop, Peter Jackson, and hundreds of painters around New Zealand did a few years back. 5000 figures in all!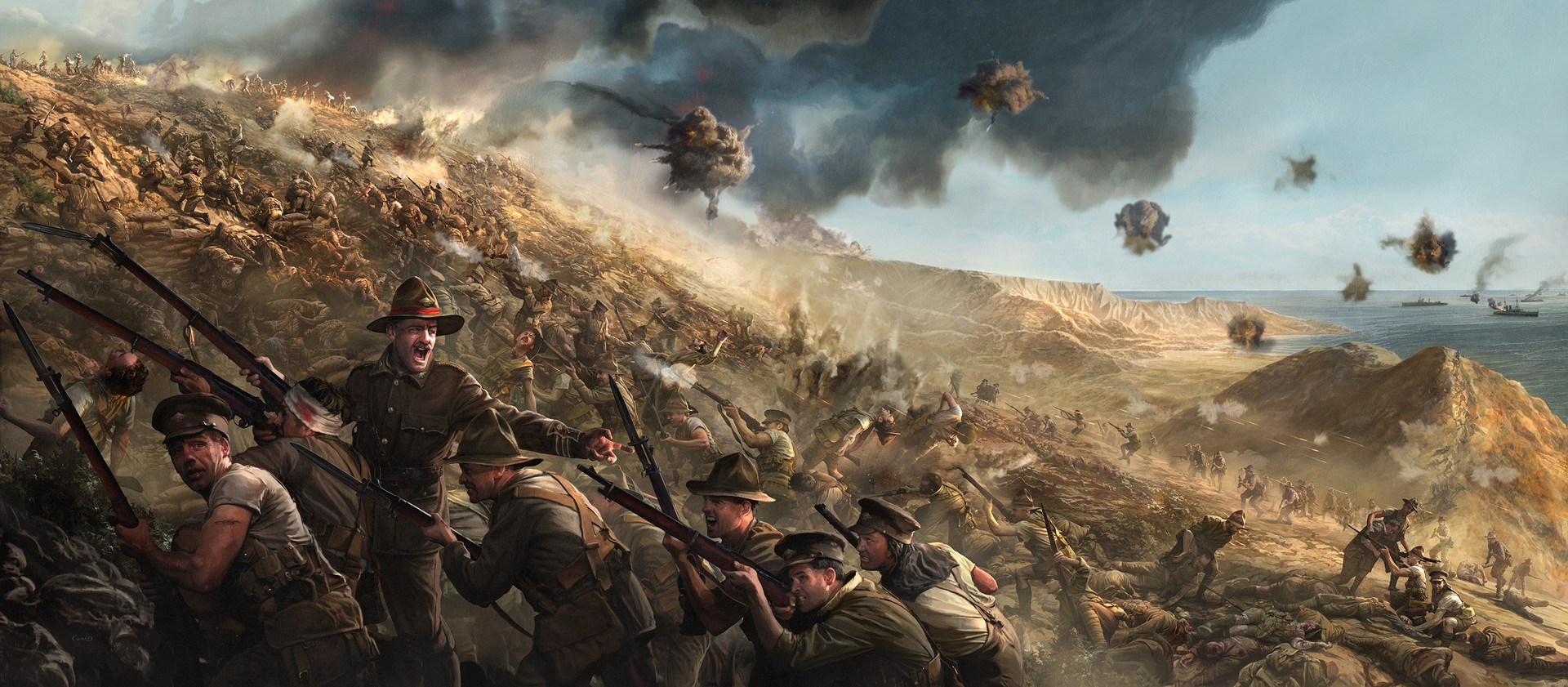 So why do this in 40k, as opposed to 28mm Historical gaming? The simple answer is that I will be able to educate people about the battle more readily with a more popular system, and to both get some creative license on how to approach the subject matter…and that the original subject matter might make for incredibly depressing and boring gameplay. That, and if I'm completely honest, to have an excuse to paint some very different figures!
I was doing an order anyway from Victoria Miniatures, an Adelaide based company that does a great range of 28mm scale Sci Fi soldiers. Many of these are nods to older, out of print Games Workshop regiments, and that is what I intended to order, using the companies Desert Scorpion models to do a Tallarn list that I've been wanting to try.
But one regiment that she does has no real GW analogue(although they are often done as alternate Catachans), the Van Diemens World Devils. These models are clearly Australians, with the name a subtle nod, and the Slouch Hats a far less subtle one. I had in fact used the heads from that range for a Roane Lighthorse Rough Rider unit many years ago.
The uniforms are depicted in Jungle colours. But the tucked in shirt, suspenders, and cut of the uniform in general struck me as awfully easy to work into a Gallipoli style uniform. I'm thinking of painting the shirts light blue, and the trousers in English Uniform to get a close approximation of Anzac uniforms of the late Gallipoli campaign. The biggest glaring gap in my project is the lack of 'Lemon Squeezer' campaign hats worn by some of the Kiwis at Gallipoli. I hope to source a few of those before I do the next wave of miniatures! Otherwise, the slouch hat without the side folded up will suffice, as not every Kiwi wore the Lemon Squeezer in 1915, and it was only post Gallipoli that it was adopted across the board by the New Zealanders.
So to start, I've ordered three 10 man squads and one 5 man squad(to make a command section and a Company Commander out of) to start, and unlike so many of my projects I will start with this and finish them before buying more, unless it looks likely that I won't be able to get more later.
This will be a thematic army, and the backstory of these poor Roane Deepers is that they will be attacking a key strategic Renegade position, located on the coast of a landmass I have yet to name. Protected by a powerful Void Shield network, Imperial Command must take it by seaborne landing craft, and to establish the beachhead the Roane Deepers have drawn the short straw. The terrain is unsuitable for armour, and the rocky coastline also prevents the use of most Imperial equipment that would make the attack any easier.
Therefore, the Guard has chosen an attrition approach, feeding in Roane Regiments piecemeal until they can either take their objective and disable the void shield network, or they decide such a position is untenable, and stop. Unfortunately for the Deepers, they have yet to decide to stop. Frontal attacks with little chance of victory are the norm.
Since this is in the end both a tribute to the Anzacs as well as a shoutout to a lesser known Imperial Guard regiment, it'll be a careful balance of what is fun, what is realistic and thematic, and of staying a fictional homage to a real event. It'll be tricky, but I'm hoping people will see the genuine interest I have in the subject, and that I'm not trying to either glorify or diminish the real event.
There will be more about the Roane Deepers when I get the models in the mail! For now, I will plan the project further, and get ready.
For both the fictional Roane Deepers and the very real Anzacs, Taking Hell will be a project I can see myself sinking a lot of time, effort, and money into. No half measures.
That is all I have for today, and I will have more in the near future! I hope you enjoyed this! Happy Wargaming wherever you are, and have a great day!